Posted by Jimmy on 13th Jan 2020
When our university teacher took about 2 months to finish the very first sample of color changing dice, everyone on our team felt so excited and proud! Because we knew were about to break the stuffy old metal dice with nobody had ever seen before. It would be like actual magic on the role playing game table.

(We designed a unique magic Style font for the cool color changing dice as an homage to the fantasy series so close to our hearts, and to further improve the old style of metal dice, we designed rounded edges, particularly on those d4's, to save our feet and protect our tables and books!)
Our teacher is passionate about this invention, of course, and he is very focused on quality control, so insists that we all take as much time as is needed to check every die before putting it in the DNDWoW metal dice box, for every set, for every order.
In order to get more and more feedback to improve the quality of our DNDWoW color changing dice, we tried to get in touch with our idols. And very luckily, we have successfully gotten in touch with super idols like AJ Pickett, Rybonator, wasd20 and other professional TTRPG channels! They have helped to give us excellent suggestions and feedback from their viewers and their own vast experience. So we have improved the color changing speeds according to different climates and get very good feedback from happy customers all around the world.
As for the price, it has experienced some fluctuation, of course this is to be expected when going from prototypes to higher levels of production. When DNDWoW color changing dice first come out, the price is $47.99, and as time has passed, our costs have dropped, so now we can offer them at $34.99. And once we released them on amazon.com, it brought more surprises to us, more orders entered our store, but also amazon brings many more challenges!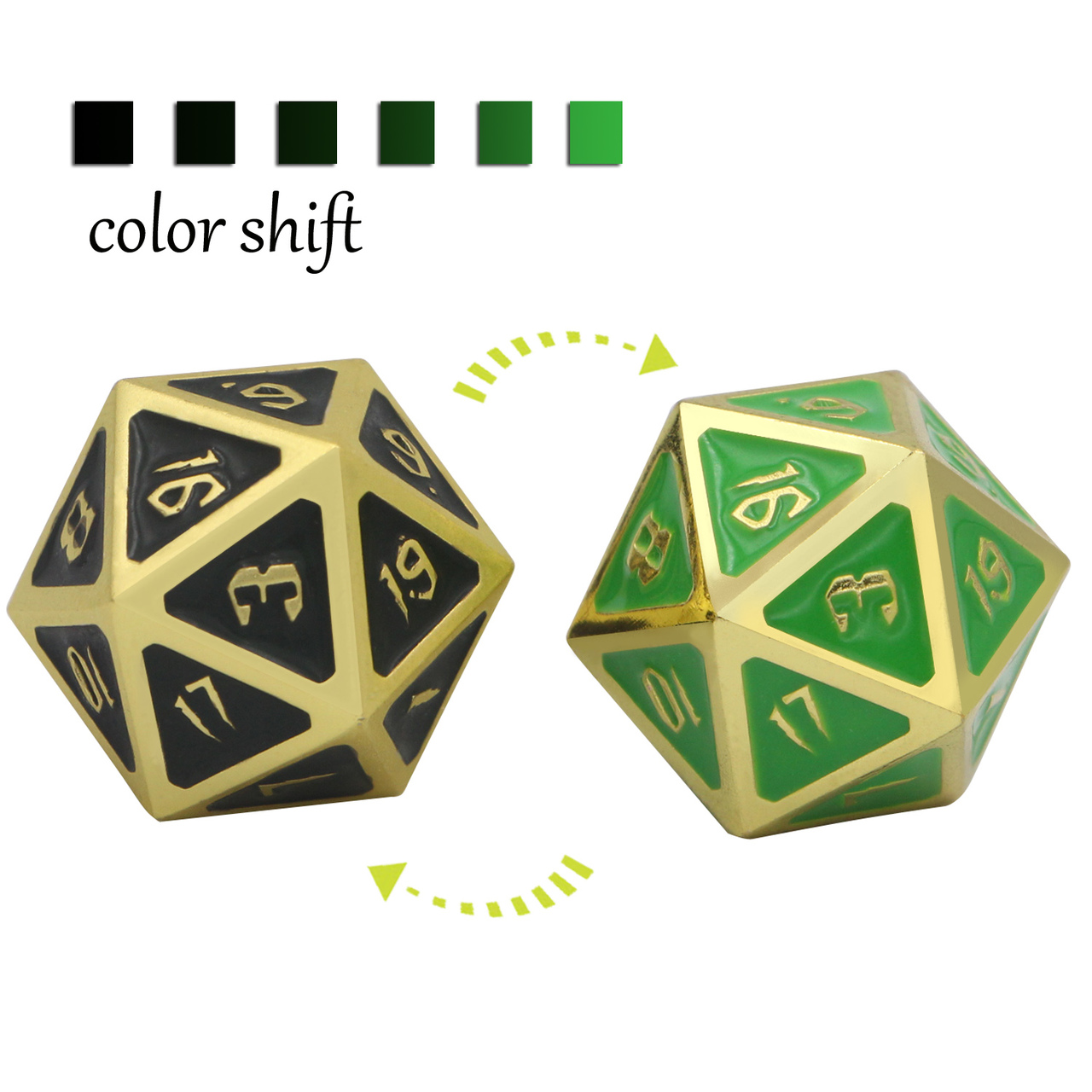 Our product manager has received a lot of feedback from our fans lately, they found some manufacturers are now copying our ideas and making their own metal color changing dice. We did expect this to happen, as it is clear that these dice are really cool and will be a popular trend in the RPG market. And more followers will come in their sneaky footsteps, trying to sell their dice cheaper, but, look at those dice sets, they have those nasty sharp points, they bite the hand, they scratch the books and tables, they could put a hole in your foot and not be very safe for children, so, we wish we could be the cheapest but If we followed that low price, we couldn't keep the same standards of high quality dice, superior design and our perfect track record of excellent customer service.
We are never afraid of problem. The trend tells us the color changing dice will cover the market quickly. We have to keep reinvesting in our company to continue challenging the market with brand new innovations, and we are confident that we shall bring more cool new dice to the role playing gamers, because we are role playing gamers and we know what we want! Keep your eyes on us, because we are going to keep bringing you amazing things, bookmark dndwow.com
We do appreciate every supporter's love. We hope that they can see the higher quality of our products and the concerns we have taken in making them safer, more comfortable and better suited to any environment you wish to play your games in. The competition may try to undercut us on price, but they will never beat our care and our experience. By gamers, for gamers! Finally, we really appreciate every fan of DNDWoW color changing dice, just look at all these reviews from verified customers. (More reviews are shown on dndwow.com and dndwow amazon store.)
Here is a review from one roller which we found very moving:
I found out about DnDWoW dice through a review video on YouTube and was blown away by the dramatic color change that the black to green set did so I placed an order right then.
These are my first set of metal dice so I was thrilled first of all by their weight and just how they feel in your hand before I even rolled them much less began to let the color change.
When it's cool or cold they are a solid black which looks great with the gold trim, but hold one in your hand for about 5 minutes and I can assure you when you open your hand the green pops right away and it will make you go "Oh wow this is awesome!" just like it did for me.
The green is a bright emerald color which is just fantastic with the gold trip on the edges and it's going to be great to wow people at role playing games when they see these change color during game play. Maybe that's why they call themselves DnDWow!

As for rolling they will just like your typical RPG Dice sets and seem very even in showing different numbers so no two rolls should be alike unless you have really bad luck.
And thanks to the great font on the numbers they are very easy to read when you roll them on the table.

Five stars from me for this set!